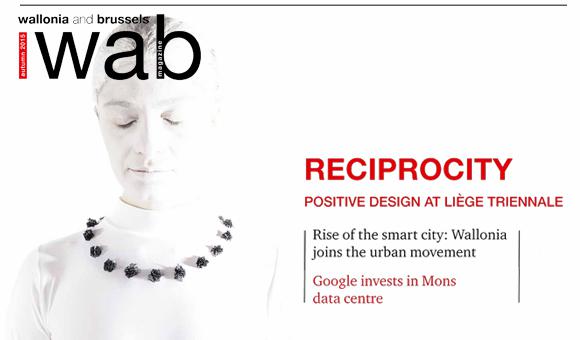 The WAB  - Wallonia and Brussels - magazine dedicates its file to the rise of Smart cities. Growing urbanisation will compel the cities of the future will have to work smarter. Discover how Wallonia is facing the challenge!
This  autumnal issue also put the spotlight on the Reciprocity triennal which explores design as a societal force.
Some other focuses :
- Liege study bureau Greish builds a bridge across the Bosphorous
- Google injects 300 million euros to expand its data center in Mons
- Saluc exportes billiard balls from Wallonia to the world
- Walloon artisan Benoït Paulis on keeping alive
And the highlights of autumn around Wallonia and Bruxelles... Enjoy reading !
If you want to subscribe freely to WAB magazine, please send an email to Marie-Catherine Duchêne (Wallonia Export-Investment Agency) mc.duchene@awex.be