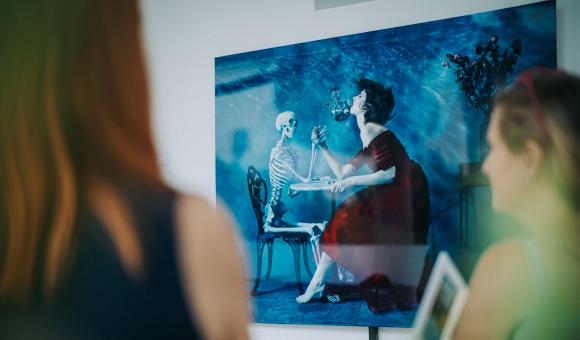 With Harry Fayt, you plunge literally and figuratively into a different artistic world, and it takes a while to catch your breath as you rise to the surface. Each shot is compelling, firstly due to its technical prowess, as the photographer and his model must tame the force of the water, secondly due to its striking aestheticism, and finally due to the wink that hides so it can better whisper its message to us. This week Milan had the chance to discover "Modern Icons and other Underwater Reveries" at Casa Vallonia, in the first stage of a mobile exhibition that will spend five years travelling all over the world.
An eclectic career
After graduating in 1998, Harry Fayt first started to photograph artists and then... second-hand cars. The desire to follow the thread of his work around emotion led him to open a photo studio specialising in maternity and baby photography, before moving to New York in 2009 where his European style became very popular. Once back in Belgium, he decided to photograph babies underwater. It was a rather eccentric and avant-garde idea at the time. It was while training on adults that his new passion was born; he would become an Underwater Photographer!
That was in 2011 and there have been constant exhibitions and successes ever since: Brussels, Antwerp, Paris, Berlin, London, Ibiza, Monaco, and international recognition in the press and on television. Originally from Charleroi and now living in Liège, Harry Fayt is an outstanding ambassador of Wallonia abroad.
Modern Icons
The opening of "Modern Icons and other Underwater Reveries" took place this week in Milan, as part of the prestigious Casa Vallonia event organised by Wallonia-Brussels International and the Wallonia Export-Investment Agency to promote Wallonia and the Wallonia-Brussels Federation in Italy.
Harry Fayt revisits the great classics of art, from sculpture to cinema. The master of water reappropriates these symbolic works and transforms them to better fit our times. Sometimes offbeat, sometimes committed, these modern icons encourage reflection and rereading, inviting us to create our own interpretation.
The poetry and humanity that emerge from each of these photographs will leave a lasting impression. In Milan, the reactions were unanimous. Visitors were enthusiastic, questioning the Walloon photographer, who was happy to take them behind the scenes of his work; they were intrigued, surprised and especially won over. It is a very good omen for the continuation of this exhibition, which will travel around the world for five years. We are looking forward to its new destination.