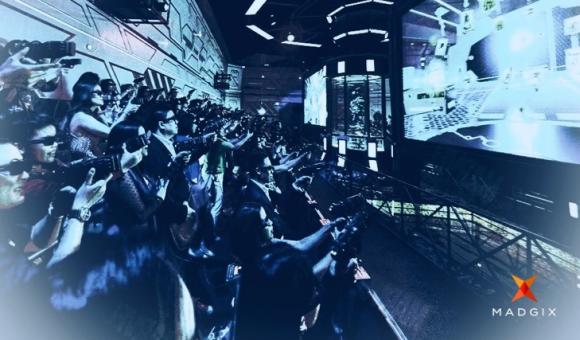 MADGIX is proud to announce the worldwide launch of its new interactive MADGIX ScreenPLAY Kit, developed in collaboration with Alterface.
Designed to transform existing non-interactive screens and spaces into vibrant play and gaming arenas, the hardware is compact and easy to implement. The MADGIX ScreenPLAY Kit introduces a new level of interaction to cinemas and attraction venues. It will be firstly shown at the yearly South by SouthWest (SXSW) Festival, which gathers all creative professionals in film, music and interactivity from 8 to 17 March in Austin, Texas.
[ Howdy, Wallonia ! ]
(follow the team Wallonia's story on Twitter)
MADGIX introduces a solution to the market that is easy to install and plug into existing hard and software of projection systems and motion seat providers. The interactive MADGIX ScreenPLAY Kit contains key elements for smooth integration and operation, accommodating a large number of shooting players simultaneously. Without modifying the screen or wiring it up, interactivity experiences can be offered to large audiences at any venue of choice through a smart camera-based detection system.
Thibaut De Lestré, Managing Director of MADGIX explains: "For the first time a multi-user interaction kit is available as an open architecture. The MADGIX ScreenPLAY Kit contains parallel independent hardware for playback and shooting detection, designed for seamless integration within existing 4D theaters and cinemas. We offer a flexible licensing system that packages the game license together with the wireless interactive devices, allowing for a broader variety in games and theming. We are very excited about the great potential this new solution offers to the various markets."
Founded in 2001 and headquartered in Belgium, Europe, Alterface operates globally with US office and Asian branches in Beijing and Xiamen, China. The Alterface team creates and develops end-toend interactive mixed-media attractions for dark rides, spinning & duelling theatres and walkthroughs. These are customized to fit local cultures and traditions, offering high quality standards and an unrivalled support system. Alterface offers creative services and advanced technologies including the patented show control system Salto!, NOMAD wireless pointing & shooting, non-linear Erratic® Ride and proprietary IP Popcorn Revenge®.
Visitors can enjoy Alterface rides in Warner Bros. World™, Jardin d'Acclimatation, Legendia, Qingdao Wanda, Phantasialand, Six Flags, Lego Discovery Centers, Cedar Fair, Carowinds, Ferrari World, IMG, Lotte World, Yumiyuri land, Hub Zero, Comics Station Antwerp and many more.
MADGIX is created as a response to the growing interest in gamification and entertainment concepts. Supported by major players in the industry, MADGIX has access to the latest intelligent interactive technologies to build immersive & fun solutions. The story-driven attractions are offered to international entertainment markets, including retailment and edutainment. MADGIX Solutions range from media-based interactive to innovative role play gamification projects. The Interactive MADGIX ScreenPLAY Kit brings interactivity to everyone, everywhere.