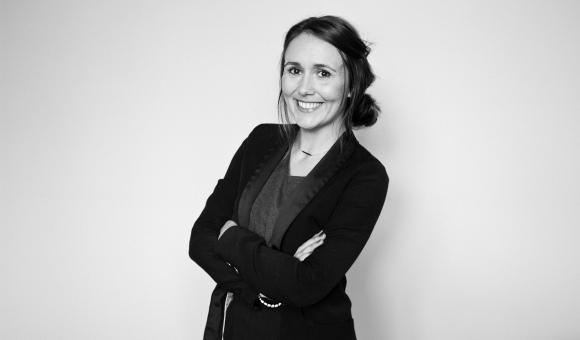 Already the brain behind the Made and More E-Shop, Liege-born Stéphanie Fellen is now launching The First, an introductory collection inspired by the same values as the labels she distributes. A real find.
Cheerful, enthusiastic and bursting with desire. This handful of adjectives neatly sums up this young thirty-something who heads up a thriving small business. A small business that came into being three years ago after a lot of soul-searching. Tired of fast fashion and our society of excess with its disregard for ethics, quality and respect for workers, Stéphanie Fellen
from Liège decided to quit her job to set up Made and More, a store that respects the people behind the clothing and accessories it sells. Mainly made from environmentally friendly materials, the pieces sold on the Made and More eshop are selected according to their traceability, but also their quality and level of finish. "At the end of the day, a shirt that is cut straight of grain will look good for longer than a Fast Fashion piece. And as I wanted to communicate about the origin of the pieces I was selling, I decided to post photos and videos on the website that tell their stories", explains Stéphanie Fellen.
Crowdfunding
Whether a designer, producer or distributor, the textile sector is uncompromising. Nothing can be left to chance when it comes to the challenges, demands and financial resources that are necessary to grow and develop. And while the number of clients has grown steadily since the launch of Made and More, the small Liège-based company needed a boost from outside. Supported by the LeanSquare start-up incubator (a Meusinvest project), in 2015 Stéphanie Fellen launched a call for funds. Enough to give a new lease of life to Made and More. Today, the company – having now moved into new offices in the heart of Liège – has been able to hire a first employee. The appointment of a second employee is also on the cards. "Throughout the call for funds process, many clients and external observers asked me why I wasn't creating my own clothing line. Obviously, the thought had already crossed my mind but I wanted to find the right time to do it," explains Stéphanie.
The First
The turning point was her meeting with Elisa Godfroid, a young designer from Liege and a graduate of the HELMo, which spurred Stéphanie Fellen on to move up a gear. In January 2016, in tandem with Elisa, she drew the outlines of a basic and easy-to-wear collection cut in premium organic cotton, denim and velvet. Stéphanie Fellen: "I wanted pure, clean lines that flatter the body and that lend themselves to accessories. I also opted for a 'no season' approach. The idea is that we design and produce pieces as our whim takes us without feeling obliged to stick to the pace dictated by the industry. I also wanted to prove that it was possible to design a collection in Belgium and to produce not too far from home in good conditions. Given the volumes that we wanted to produce, I was unable to work with a workshop in Belgium. I opted for Héritage Confection, a French workshop saved from bankruptcy by a thirty-something who today employs around ten seamstresses.".
QR Code
This first collection revolves around 13 pieces: impeccably cut t-shirts, a tube skirt with a long slit, a slip dress in organic cotton and a short velvet A-line skirt. As Stéphanie Fellen puts it: "I wanted to create a basic wardrobe that is not in competition with the brands I offer on Made and More. Inside each garment, I've included ultra-detailed labels that inform the consumer about the origin of the pieces. I even include the first name of the seamstresses who worked on the piece in Nantes. The extra something: a QR code with a link to a video taken in the garment factory. As for the buttons, we sourced them in Bernaville, famous for its mother-of-pearl. It was a way of perpetuating a tradition and a real know-how made in France." This attention to detail goes hand in hand with a determination to guarantee accessible prices. This first capsule collection starts at 50 euros for a t-shirt and ends at 150 euros for an organic cotton dress. Still in development stage (from 22 May 2016), The First will only be distributed on the Made and More website and via several popup stores in Liège and Brussels waiting to be discovered this summer.
Marie Honnay
Linked events