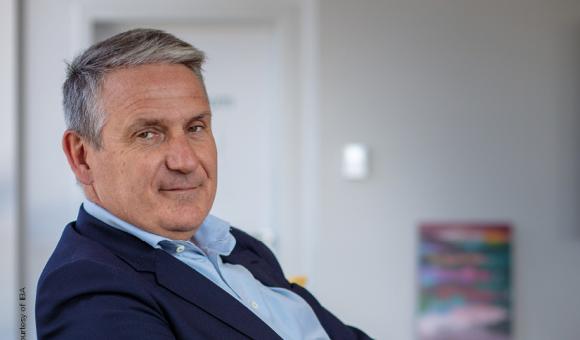 Belgium, Germany, and Italy stricken by unprecedented floods. France and Greece, not to mention California, all fighting deadly fires. And everywhere, ordinary people and entrepreneurs are rolling up their sleeves and working hard to restore their local areas, their homes, and their businesses—businesses that are also doing their part.
It is as if this awareness of the big picture, which has been there for some time now, driven forward by the UN's Sustainable Development Goals, and with a deep-seated desire for innovation at its core, had been strengthened and invigorated. Whether we are talking about biotechs, IBA, CSL, or John Cockerill, everyone is keen to play their part in pressing ahead with highquality sustainability initiatives that have a positive impact on the world and the people in it, far and wide.
We hope you are dazzled by this wonderfully sunny side of our companies, and that you too can set off on a Sun trip, perhaps, or—who knows?—on a bamboobike adventure!
As you look forward to recharging your batteries, whether in the spa resort that visitors rave about, over a glass of gin made in Wallonia, or standing together in front of thought-provoking art or architecture in Venice or Milan, we are pleased, now more than ever, to invite you to take a real tour of the sustainable world.
A voyage of discovery awaits you so discover the new release of the WAB!
If you want to subscribe freely to WAB magazine, please send an email to Marie-Catherine Duchêne (Wallonia Export-Investment Agency) mc.duchene@awex.be