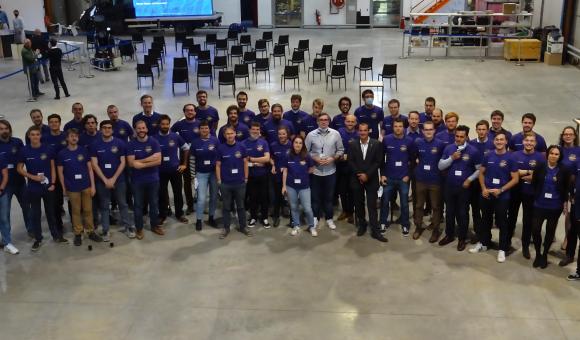 Walloon space start-up Aerospacelab has managed to raise 40 million euros, enough to move on to a new stage of development and growth. This Series B fund-raising round is co-led by Airbus Ventures and XAnge, a leading European investor in launch-stage start-ups. A total of 60 million euros has been raised since its creation in 2018.
Aerospacelab, based in Mont-Saint-Guibert, is growing rapidly; it launched its first satellite barely four years after its creation and already has more than 110 full-time employees. With a unique vertically integrated approach, Aerospacelab specialises in satellite platforms and geospatial intelligence. It designs, manufactures and operates a constellation of remote sensing satellites, empowering intelligence and ideas with its proprietary satellite data.
"2021 was a fantastic year for Aerospacelab, marking the launch of our first satellite and demonstrating the effectiveness of our technology in space," notes Benoît Deper, founder and CEO of Aerospacelab, who presented the company's industrial roadmap during a keynote at #SpaceSummit. He was with the Director-General of the European Space Agency, Josef Aschbacher, in Toulouse, in the presence of the French Presidency of the European Union and the European Commission.
Octave and Miroslaw Klaba, SRIW, Noshaq, BNP Paribas Private Equity, Sambrinvest and Belaero also participated in this Series B financing round, which aimed to help companies grow to the next level with a broader market reach and expand their teams.
The two main companies that co-led this financing round are delighted to be able to support this space start-up. "With its obvious and significant potential for a positive impact on European and global markets, Aerospacelab attracted our immediate interest and attention," notes Mat Costes, partner at Airbus Ventures. "They earned our support by demonstrating how they can significantly improve decision-making processes in a variety of sectors."
"We have followed Aerospacelab since its very first steps. We confidently believed in their major potential from the beginning, as we led their first fundraising round in 2018," explains Guilhem de Vregille, Partner at XAnge. "Today, we are particularly pleased to co-lead the second financing round with Airbus Ventures, and we are delighted to continue supporting Aerospacelab's bright future."
Linked events