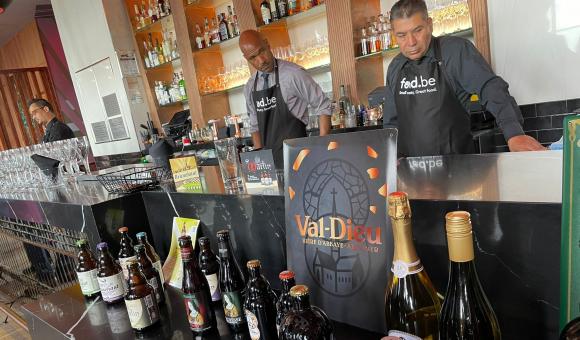 The development of the Brasserie de l'Abbaye du Val-Dieu is booming thanks to the success of its beers with consumers looking for authentic products. It is the only Belgian abbey beer actually produced in a living abbey, like the famous Trappist beers. The Aubel Brewery will distribute its beers in seven new distribution points in the United States.
With seven signatures in three different cities - Atlanta, New York and Boston, the least we can say is that the economic mission led by Princess Astrid has been beneficial, even prolific, for the Abbaye du Val-Dieu Brewery.
American consumers will now be able to taste a Val-Dieu, which can already be found on the other side of the Atlantic through its American importer D&V International, in the following new establishments:
World Of Beer
World of Beer is one of the best craft beer restaurants in the United States. Belgian beers are always well represented. And visitors can now enjoy the beers of the Abbaye Val-Dieu.
Hop City Beer Shop
Hop City Beer Shop has four stores (Krog District/Birmingham/Fayette Ville/West End), places-to-be where you can find a great selection of beers and, of course, all the best Belgian beers. Val-Dieu will have the honour of being part of this exceptional selection.
 Coffee District
Coffee District is one of the best beer bars in Florida. Its owner, Chung Seo, is literally passionate about good beer and currently has a wide selection of Belgian beers, from which only Val-Dieu was missing.
BXL coffee
BXL café and BXL Zoute are two legendary Horeca establishments in New York that have been serving Belgian beer and cuisine for over 15 years. They are the place to be for Belgian beers in NYC.
DeCicco&Sons
The distributor DeCicco&Sons represents several gourmet supermarkets in the upstate New York area. The family business opened in 1973 and was voted best gourmet supermarket and best beer selection in 2017.   Three Val-Dieu bottled beers are now available in all the group's supermarkets in the NYC area.
Taste of Belgium
Taste of Belgium is a chain of seven restaurants in the Cincinnati (Ohio) area, specialising in Belgian gastronomy. Val-Dieu beers will be present in kegs in all Taste of Belgium restaurants in the United States.
 Craft Beer Cellar
In addition to the new deals described above, Atlanta's Brick Store Pub, which carries more than 120 Belgian and Belgian-style bottled beers, has been a big fan of the Abbaye du Val-Dieu Brewery for several years. They hosted a party in collaboration with the Walloon brewery when they arrived in Atlanta to launch the sale of their beers on tap.
"Notre-Dame du Val-Dieu" was founded in 1216 by monks from Hocht, near Maastricht. According to legend, the uninhabited valley was so hostile that the local population nicknamed it "Vallée du diable" (Devil's Valley). The monks settled there and renamed it "Vallée de Dieu" (Valley of God), which later led to the name Abbaye Du Val-Dieu.
The company now produces seven special beers. Significant private investments (+/- €11,000,000) in the local production capacity (new brewery and new bottling unit) are allowing the company to meet a growing demand for exports. The beer sector is changing rapidly. Lager sales are inexorably declining as consumers choose the authenticity of special beers, particularly abbey beers.