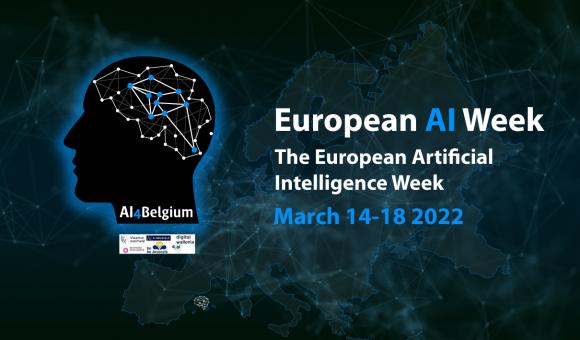 The European AI Week 2022 will take place from Monday, March 14 to Friday, March 18 2022. The program includes inspiring talks, workshops, new insights from research, new publications and citizen debates. 
During this week, organized by AI4Belgium and its many partners across Europe, with the support of the Federal and Regional governments, everyone –expert or not - will have the opportunity to discover the fascinating perspectives of artificial intelligence worldwide.  Let's shape a desirable future together!
After the success of the 2021 edition, the AI4Belgium ecosystem is back on track to share the achievements and the goals of the companies, citizens, institutions, working groups which work throughout the year to make a better world through AI.
Register immediately here : https://lnkd.in/erg9XZ5r to receive the whole program and be informed of all the 88 events prepared for you and by you !
Look at the entire program in attachment! Save your calendars! Feel free to adapt the visuals and let's spreading the news !
As a preview, you will find below direct links to the recordings of some key events.
Looking forward to meeting you there online !
The European AI WEEK 2022 TEAM by AI4Belgium and partners.
Linked events