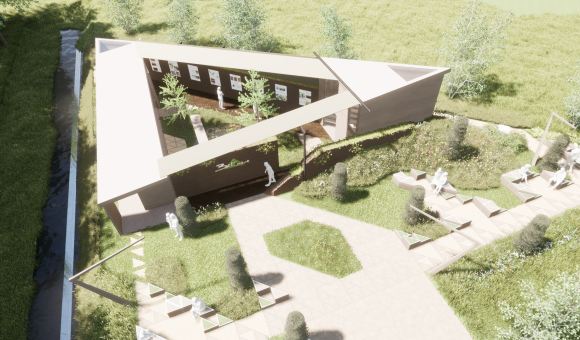 The Floriade opened its doors on 14 April for six months in Almere, the Netherlands. This horticultural exhibition allows countries from all over the world to present their most innovative solutions for developing green cities, which is the theme of this year's Expo. More than two million visitors are expected. The garden and the Belgian pavilion were designed by Namur architect Nicolas Godelet, who is internationally renowned, particularly in China where he has been living and working for 20 years. His aesthetic and sustainable "regenerative garden" and his structured, geometric project won over the jury. You can admire it until 9 October 2022.
This Expo is considered one of the most important horticultural exhibitions in the world. It is an impressive plant-based event where you can admire flowers, plants, vegetables and fruits while strolling through the gardens and pavilions of the participating countries, the gigantic complex of greenhouses and the arboretum. 
You will discover the solutions designed by Dutch and foreign innovators to make our cities more pleasant, more beautiful and more sustainable. New technologies, products of the future and solutions for global urbanisation, food supply, health and energy extraction are at the heart of the exhibition. Belgium is involved under the theme "Growing Green Cities", with its typical Belgian Garden, and is sharing its expertise in the horticultural and agricultural industries. 
The project of "Nicolas Godelet architects and engineers" won the competition launched by Belgium among architects and landscape designers and designed the garden concept to represent our country during these six months. It is a geometrical (look for the innumerable references to the triangle) and natural project that reflects Belgian gardens. It is a playful and relaxing space where families, for example, can take the time to try wooden games or follow the path of edible plants.
The architecture of the Belgian pavilion was designed to minimise its environmental impact. Each material chosen is completely reusable or degradable, low-carbon, regenerative and natural. Wood, earth, hemp and naturally compostable bioplastic are all elements that will be dissolved or recycled at the end of the Expo. Not to mention that the whole landscape is also 70% edible!
It is this sustainable vision that characterises Nicolas Godelet's projects. It was he who designed the Belgian garden pavilion at the Floriade in Beijing in 2019. He has been working in China for more than 20 years on projects such as the National Opera in Beijing, the Chang'An Bridge and the construction of the new Belgian Embassy in Beijing. More recently, his design of a 60-metre high ski ramp for the Beijing Olympics, the Shougang Big Air, brought him back to public attention. This too was an ambitious industrial heritage transformation project, as it aimed to bring a century-old steel mill back to civilian life, reconnect the city to the Yongding River and restore the damaged natural environment.