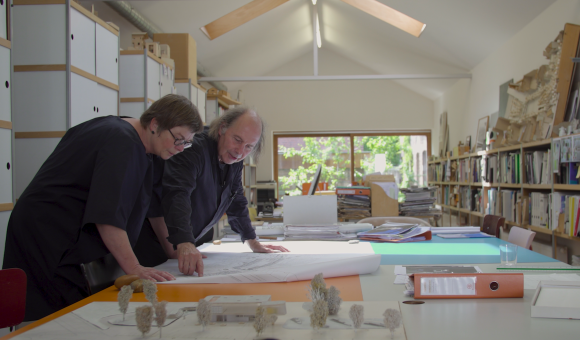 When they met at the school of architecture, Aloys Beguin and Brigitte Massart couldn't have imagined that one day their work would pepper the city of Liège, making it more pleasant for its inhabitants. And yet...
The partnership between these two curious minds began when Aloys won the competition to redevelop the Place Saint Léonard. It was a sizeable challenge; to create a sociable esplanade on the site of a former prison, in order to revitalise this slightly abandoned area of Liège at the end of Rue Féronstrée. Today, this wasteland has become a green and recreational space that the inhabitants have made their own. A success for the Beguin Massart architectural firm.
Since 1991, their creative and complementary talents have been recognised and won awards worldwide. These awards include the City of Liège Urban Planning Prize, "Highly Commended" at the 6th "European Urban and Regional Planning Awards 2006" in Seville, Nomination for the 2012 Wallonia Grand Architecture Prize.
It has to be said that the architectural firm has tackled a wide variety of projects: museum extensions, restoration of listed buildings (the Extension of the Treasury of the Cathedral), development of public spaces, commercial premises, construction of private houses… The two architects have also explored the worlds of stage design and design by creating lights and furniture. And of course, we have to mention their latest Liège project, the extension and renovation of the Trinkhall Museum. A project for which, in 2020, they were nominated for the European Prize for Contemporary Architecture - the Mies Van Der Rohe Award.
Nothing of the old building can be made out any more; an annex has been added and the whole wrapped in an opaline mesh with rounded contours, sitting like a lantern in the middle of the Parc d'Avroy. A translucent building that never welcomes the sun but makes the light soft and maternal so as to complement the museum's works without damaging them.
For Brigitte Massart, architecture is not only a space, it's a light that passes through the window. In the city, it's a building where we spend time, which we like and which ultimately creates the backdrop to our life... A backdrop that these two aesthetes have undeniably helped to enhance.
More information
Atelier d'Architecture Aloys Beguin – Brigitte Massart SPRL
Les Belges Histoires
WBI, in partnership with RTBF, invites you to discover the portraits of French-speaking Belgians who are promoting Wallonia-Brussels.
Linked events