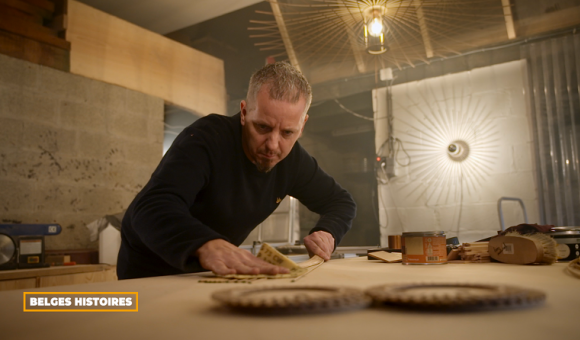 Launched in his father's garage, Yves Dejardin's adventure and light creations now light up the world. Art Maker's journey is the story of an artisan and artist determined to make his dream come true in Belgium and around the world.
After a professional career full of unfulfilling jobs, in 2015 Yves Dejardin decided to leave everything behind to launch a new activity and live his passion. He knew what he wanted to do: create lighting. Supported and encouraged by his wife, he launched his Art Maker brand. As a result of his success, he invested in a larger workshop so he could fulfil the orders that were soon pouring in. Art Maker is now a three-person structure that produces around 100 pieces per month.
Lighting, objets d'art with meticulous finishes, handmade and made to measure, using a simple but original manufacturing process; his creations are presented with the help of Wallonie-Bruxelles Design Mode (WBDM) - a satellite agency of Wallonie-Bruxelles International (WBI) - at the prestigious "Salon Maison&Objet" in Paris. His light fixtures soon attracted the attention of interior designers and decorators in Belgium and abroad. Today, they can be found from Liège to New York. Export is an important element for him because, as he points out, "In Belgium, we are recognised as being extremely creative, so it's good to showcase our expertise and creativity abroad."
This flourishing success naturally attracted the attention of large lighting design companies, which offered to produce his lamps industrially, but he refused.
His creative approach is artisanal, local (both in the location of the workshop in Liège and in the choice of the wood species used) and on a human scale. This is his wish and his pride; he likes to meet his customers and not a single lamp leaves the workshop without him having put his hand on it. His quest for perfection and his desire to create exclusive pieces continue to drive him. Yves Dejardin has indeed turned his dream into a profession.
Does Yves Dujardin's adventure inspire you?
Would you like to receive support from Wallonie-Bruxelles International in your field?
Discover all the support we can give you: https://wbi.be/fr/service
For more information about Art Maker:
https://www.facebook.com/ArtMaker.be/
https://www.instagram.com/designartmaker/
https://www.pinterest.com/artmakerbelgium/_created/
Linked events