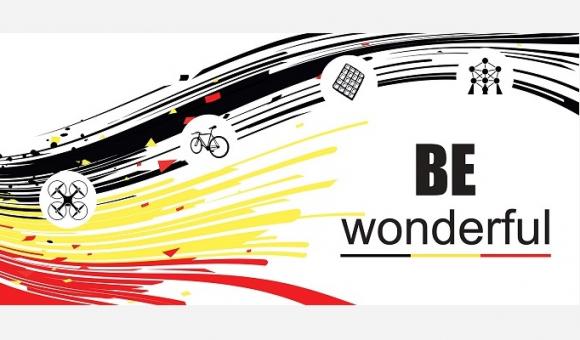 For the third year in a row, Wallonia's innovation and creativity stakeholders are present in number at the South by Southwest (SXSW) Festival, which takes place from 11 to 20 March in the United States, with a Belgian stand BE-WONDERFUL. The largest international art and technological innovation festival in North America offers the opportunity to discover Walloon nuggets in fields as varied as virtual reality, artificial intelligence, film and even magic automation. It is also the perfect place to discover the trends of tomorrow on a global scale.
South by Southwest is an international benchmark and takes place at the same time every year, bringing together artists in search of recognition, engineers looking to the future, curious visitors, enthusiasts, personalities whose names are now well known, start-ups and large companies. An abundance of ideas come together around conferences on technology, culture and innovation, exchanges, amazement and sometimes awards. In 2019, SXSW had more than 400,000 attendees across 735 exhibit spaces, more than 2,100 conferences, visibility from 4,000 media outlets, and saw 106 countries and territories represented.
With the convergence of music, film and the creative sector, even today the original soul of SXSW is intact - and perhaps with even stronger conviction. It is a tool for learning, meeting and sharing that allows creatives from all over the world to grow while gathering and enriching each other.
Each year, the collaboration of the Wallonia Export & Investment Agency and WBI (Wallonia-Brussels International) allows some of its innovators to represent what our beautiful region is capable of producing. After the 2020 edition was cancelled at the last minute due to the global pandemic, and a virtual 2021 event, Wallonia is on its way to Texas once again. From 11 to 20 March 2022, South by Southwest is giving Austin back its global reach and the Walloon region is finally able to export its jewels.
A 100% Belgian stand
This year, AWEX-WBI has a 100% Belgian stand at the Trade Show, in collaboration with Flanders Investment and Trade (FIT). Flemish, Brussels and Walloon representatives aim to present innovative companies, research centres and university laboratories, contribute more broadly to placing Belgium on the world innovation map and capture inspiration from the latest creative and technological trends.
Networking events are taking place in parallel with the show, as well as a focus group between Quebec and Wallonia. Walloon companies also participate in the "Village Francophone", a private event organised on the margins of SXSW to promote the assets of the French-speaking world.
A very diverse delegation
More than 40 Belgian innovators, including 20 Walloons, are present at the Festival to represent Belgium in the USA. The entities from the south of the country making the trip to Austin this year operate in fields such as virtual reality, transmedia, artificial intelligence, film, sound art, digital, magic automation and creative cultures. The Universities of Liège, Mons and Leuven are also part of the event. Last but not least, the Brussels band Plain Jane has been selected to play live during the Festival!
Linked events