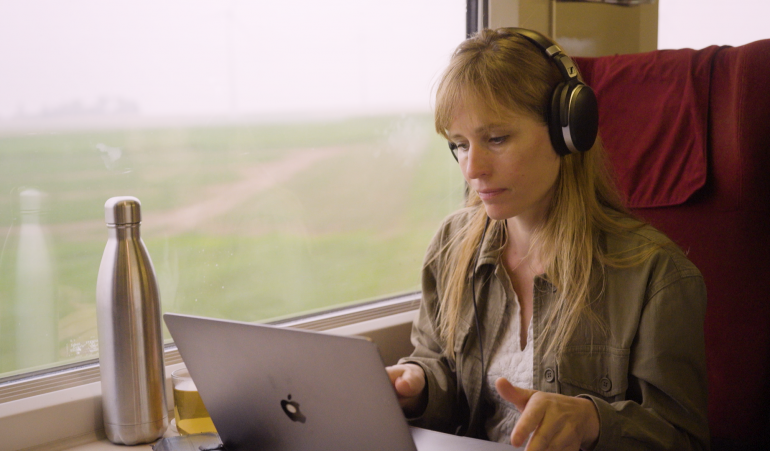 From her training as an actress, Adeline Dieudonné's writing has retained her ability to create stories and interpret the thoughts of her characters. The result is realistic texts that touch readers' hearts.  This can be seen in her first novel, "La Vraie Vie" (Real Life), a success that had a huge impact on the life of its author and those of more than 300,000 readers in over 22 languages!
Published in 2018, La Vraie Vie**, an initiatory, effective and brutal novel, won a series of awards (FNAC, Prix Renaudot des Lycéens, Prix Rossel and Prix Filigranes in Belgium, Prix Goncourt, Choix de la Belgium and La scelta dell'Italia, Grand Prix des lectrices de ELLE in 2019.) 
Adeline Dieudonné had not foreseen this success, and it still amazes and delights her. Of course, she had already won the Grand Prix du concours de la Fédération Wallonie-Bruxelles for her first short story, Amarula, and published other texts with Lamiroy, such as her play: Bonobo Moussaka, but despite these successes, she continues to question her ability to write, although in the meantime Kérosène** was published and received the Manneken Prix in 2021. 
In the meantime, La Vraie Vie* continues to delight its author. Adapted for the stage in 2021, directed by Georges Lini and performed by Adeline, who returned to the stage for the occasion*, the novel is also the subject of a with the help of Thomas Gunzig. 
Thierry Belfroid describes her writing as recognisable because it is "trashy, powerful and unashamed". The author is not afraid of anything, let's hope she continues to bravely pursue her path as an actress and writer. 
With the support of the Wallonia-Brussels Federation and Wallonia-Brussels International 
*La Vraie Vie, opens in March at the Centre Culturel Uccle 
** La Vraie Vie and Kérosène are published by L'Iconoclaste
Find out more
Adeline Dieudonné's official website
Les Belges Histoires - The talents of Wallonia-Brussels
WBI, in partnership with RTBF, invites you to discover the portraits of French-speaking Belgians who are promoting Wallonia-Brussels.
Discover the portrait series:
Pages