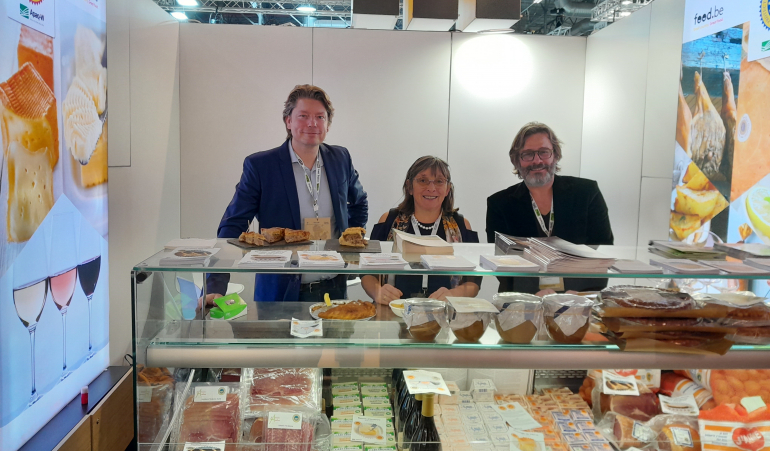 The World Agri-Food Fair in Paris is a showcase of choice to promote the local products of a region. Tradition, authenticity, terroir and passion are the common ingredients of each PDO (Protected Designation of Origin) or PGI (Protected Geographical Indication) product. These geographical indications benefit both producers by ensuring fair incomes in terms of the quality of their product, and consumers by providing them with reliable information about what they are buying. From Ardennes ham PGI to Crémant de Wallonie PDO and Herve cheese PDO, discover here the Walloon specialities stamped with the seal of European excellence.
Apaq-W, the Walloon Agency for Quality Agriculture takes advantage of the Paris trade fair to present the products that benefit in Wallonia from these European quality labels. For 5 days, Fromagerie du Vieux Moulin, Terre de Fromages, Salaisons des Ardennes, Porcs Qualité Ardenne, Escavèche du Val d'Oise, Emond and Fils, the Salaisons Blaise and the Château Bon Baron took over at SIAL to establish promotional and commercial contacts with potential buyers.  On the menu: inspiring recipes and tastings to delight the most greedy.
These labels offer real interest to producers from a commercial point of view," explains Amandine Vandeputte, who presented at the Paris show. It is a European recognition of the quality of their products that makes it easier to cross regional and national borders." Indeed, the manufacture of these products requires specific know-how that often requires a lot of time.
From his stand at SIAL, Michaël Zahn, a sales representative for the Porc Qualité Ardenne cooperative, P.Q.A. confirms that these European acronyms have a real impact on sales. This label is recognition of the quality of our products in the eyes of the consumer." These labels are also synonymous with transparency and traceability. We are the only ones to do everything from A to Z in the Ardennes to cut, with pigs raised in the region. We also have our own slaughterhouse where pigs are slaughtered painlessly, sleeping in CO² to minimize stress».
Small lexical guide to get started: the PDO (Protected Designation of Origin) guarantees that all the production, processing and production steps take place in a well-defined geographical area, respecting strict specifications.  The link between the specificities of the product and its terroir of origin is essential and exclusive. In Wallonia, five products are recognized as PDO:
The only butter in Belgium to have the Protected Designation of Origin, Beurre d'Ardenne (salted or unsalted) is a pasteurised dairy butter made with cream from the milk of cows raised exclusively in the Belgian Ardennes.The churning and curing must also take place in this geographical area. This tasty butter rich in fatty acids is exported by several hundred tons per year to Japan and Australia.
Known for its powerful smell, Fromage de Herve PDO cheese is a soft cheese with a washed rind, made from raw or pasteurised cow's milk. There are three types of Fromage de Herve PDO cheese: mild, strong and Remoudou, an old recipe made with whole milk. The production of Fromage de Herve PDO cheese has been documented since the end of the Middle Ages and gained a strong reputation in the 17th and 18th centuries. It is the result of research into preserving surplus milk production until the beginning of winter, by fermenting the traditional curd cheese.
les vins Côtes de Sambre et Meuse PDO
le Crémant de Wallonie PDO
le Vin Mousseux de Qualité de Wallonie PDO
For PDO wines, grapes must be 100% from this area. For PGI wines, they must come from harvests harvested at least 85% in Wallonia. Winemaking is carried out in Wallonia only where viticulture is experiencing a significant growth with an increase in the number of winemakers from year to year. The Walloon vineyards cover an area of nearly 105 hectares.
The PGI (Protected Geographical Indication) certifies a territorial anchorage of the product for which at least one stage of its manufacture takes place in the geographical area of origin and respecting strict specifications. In Wallonia, six products are recognised as PGIs:
Produced exclusively in the Ardennes (geographical area covering the province of Luxembourg and some cantons of the provinces of Liège and Namur), it is a dried ham, with a strong salty taste and melting texture, of a dark red colour. Its smoking is the result of an ancestral technique of preserving meat from the Celts. Placed in a smoking chamber for a week, they will dry thanks to the slow combustion of oak and beech sawdust. Essential, juniper berries also give it its typical aroma.
It is in Gaume that was born in the 19th century the Pâté gaumais. This round pie (of minimum 200g) raised dough is stuffed with pork meat. The noble pieces of meat marinated in white wine or vinegar with spices and aromatic herbs, for one or two days. The pie is then baked and can be eaten cold or hot. Since Pâté gaumais has been recognized by Europe as an IGP, production has increased in about 15 years from 30,000 to 100,000 pâtés a year.
la pomme de terre Plate de Florenville PGI
The geographical production area of the Plate de Florenville extends over the sandy soils of the Gaume. The climate and the light, well-ventilated and well-drained soils of this region give it great taste qualities. Rosa potato, it has an elongated shape, regular and slightly flattened. The colour of its skin is pinkish and its flesh is yellow. Its firm flesh offers a very good resistance to cooking. Its fine, melting texture and subtle taste with hints of hazelnut make it exquisite in salads, steams or stews.
le Saucisson d'Ardenne PGI (y compris le Collier d'Ardenne IGP et la Pipe d'Ardenne PGI)
Made only in the Ardennes, these sausages were already famous in the 19th century. Made from the same
Traditional as the Ardennes ham, these three sausages are smoked in beech and oak wood with juniper berries (optional this time) and then dried. This technique was developed because of the specific cold and humid climate of the Ardennes. A woody, peppery and slightly resinous taste can emerge during the tasting.
le Vin de Pays des Jardins de Wallonie PGI
l'Escavèche de Chimay PGI
Chimay Escavèche is the latest Belgian (Walloon) product to receive the PGI label, on 4 March 2021! It is a cold dish of cooked fish coated with a vinegar and jelly sauce containing onions and must be packaged in a pot, traditionally stoneware. Escavèche du Val d'Oise, Escavir and SCRL Fagnes & Saveurs are the three producers that currently have the PGI designation, which guarantees the typicality, know-how and traditional character of the product. The production and packaging area is located in the province of Namur in the municipalities of Cerfontaine, Couvin, Doische, Philippeville and Viroinval, and in the south of Hainaut province.
Think about it when you shop. Choosing a PDO or PGI product is the guarantee of a trip to the country of flavours while offering producers a fair price equal to the treat they offer to our pallets!
Pages