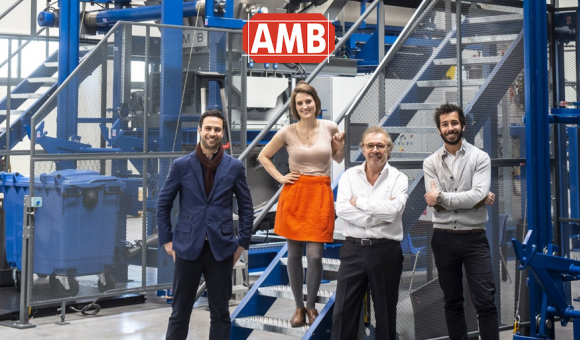 Following the appearance of COVID-19, AMB Ecosteryl, a Mons-based SME specialising in hospital waste disposal, has emerged as a key institutional player to meet the health and environmental challenges posed by this global health crisis. This is a wonderful opportunity to move waste treatment towards processes that are more respectful of people and the environment.
Located in the Initialis Science Park in Mons, AMB Ecosteryl is specialised in the development of new equipment for the processing (recycling and destruction) of medical waste. The equipment designed by its teams provides an industrial solution for sterilising hospital waste: the machines shred compresses, syringes and other operating theatre waste to make ground material that is then passed through a microwave oven and finally sterilised. This safe solution for the processing of biomedical waste is 100% environmentally-friendly, much more so than incineration, for example.
Ecosteryl systems have processed hundreds of millions of kilograms (kg) of infectious waste over the last 15 years. To give an idea of its size, the Ecosteryl machine can process up to 2,000 tons of medical waste per year.
Its customers are mainly environmental service providers, hospitals and healthcare institutions, universities, laboratories and leading players in the pharmaceutical industry.
If AMB Ecosteryl has been in the spotlight since mid-February 2020, it is of course because of the Coronavirus crisis, which has led to an exponential rise in the use of protective masks and other sanitary equipment all over the world. As this waste requires processing and some form of recycling at the end of its life, a lot of questions are being asked of the head office of the Mons-based company. With the global spread of the virus, inquiries have doubled, particularly from China, where the virus strain first appeared, but also from the rest of Asia and Europe.
In addition to the increase in demand, Olivier Dufrasne, President of AMB Ecosteryl, has observed an important issue, namely the problem of processing medical waste, which is a source of contamination risks. The AMB President gave as an example the Ebola virus epidemic that affected Africa, during which one in three patients was contaminated by hospital waste. "The current coronavirus crisis has prompted hospitals and authorities to question their waste processing methods," he added. Today, the world is becoming aware of the problem. Countries like Japan or Iceland, which used to export their waste to other countries, now have to keep it! In Italy, we are seeing a leap forward. Operators were authorised to open processing centres within two weeks. The issue of hospital waste disposal has also arisen in Belgium: is it normal for waste to cross Wallonia to be burnt near Tournai?"
Amélie Matton, Chief Operating Officer (COO) at AMB Ecosteryl added that "historically, AMB Ecosteryl has grown in Western countries because health and environmental expectations and standards in the area of waste processing are higher than in so-called "emerging" countries. However, AMB Ecosteryl's teams have recently noted that environmental concerns have become increasingly important to their partners in non-European countries, particularly in Asia and the Middle East. This is great news! Developments are moving in the right direction."