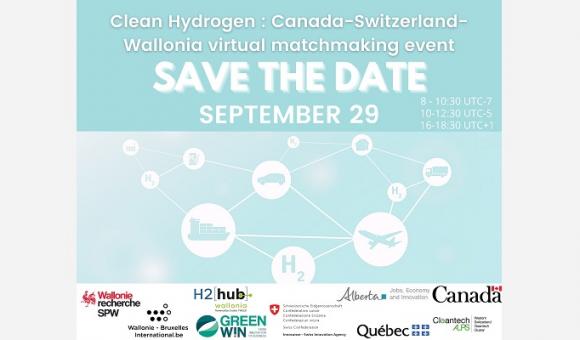 Save the Date ! Participate in this matchmaking event dedicated to low-carbon hydrogen technologies. The event will be organized virtually on September 29th.
The Science and technology liaison offices of Wallonia-Brussels International in Canada and Switzerland, together with SPW-EER, GREENWIN, TWEED cluster, National Research Council Canada, Innosuisse, Cleantech Alps and the provinces of Quebec and Alberta,  have the pleasure to to co-organise this matchmaking event dedicated to low-carbon hydrogen technologies.   
On September 29th (8am UTC-7/ 10am UTC-5 / 4pm UTC+1) this online event will involve companies, research centres and universities active in hydrogen technologies from Switzerland, Canada (Quebec/Alberta), and Wallonia. Specific fields such as hydrogen production, distribution and storage will be addressed.
Why join us?
A series of targeted pitches from companies, SMEs, research centers and universities from Canada, Wallonia and Switzerland on low-carbon hydrogen technologies ;
Specific breakout sessions to set-up joint international R&I projects with your future partners;
B2B networking sessions;
Interested? Join us on September 29th!
The program and registration information will soon be available.
Any questions? Do not hesitate to reach us : Vassil Kolarov (v.kolarov@wbi.be) and Adrien Sellez (a.sellez@wbi.be)
What is EUREKA/Eurostars?
The EUREKA Initiative aims to stimulate European competitiveness by supporting companies, research centers and universities that implement pan-European projects to develop innovative products, processes or services. Canada is one of the international partners associated to this initiative. The projects submitted to EUREKA are initiated by the industrialists themselves (in other words, according to a bottom-up philosophy) and not via calls for proposals.
The EUROSTARS program, developed by Eureka and the European Commission, is designed to support research and innovation-intensive, market-oriented SMEs with high growth potential involved in European partnership projects. This program targets projects led by research-intensive SMEs, i.e. SMEs that invest at least 10% of their turnover or employment in R&D. This is what distinguishes these projects from Eureka projects. Canada is also part of the Eurostar program.