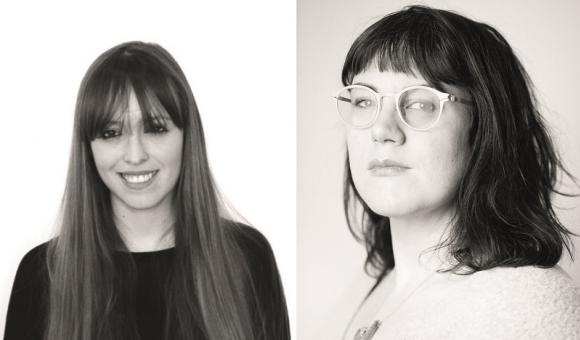 Laetitia is a photographer who is out of the ordinary and uncompromising. A designer, Sarah Bruylant trained in Brussels and Amsterdam and hopes to launch her own label. They were both finalists last month at the prestigious Hyères Festival.
In fashion, Jean-Paul Lespagnard, who you know well, Laetitia, was a prize-winner in 2008 there. And then there's Pablo Henrard, a finalist in 2014, who today is a designer with Givenchy. Hyères is a launchpad. Is that why you decided to enter for it?
Sarah Bruylant: I have a very special relationship with Hyères because I went there at the end of my first year studying at Francisco Ferrer. I loved the ambiance, the shows and the very high profile of the jury members. Being able to present my work to them is an incredible opportunity. That's the main reason why I entered the competition. The second one is that I need to boost my self-confidence. When you finish studying, even when you are one of the top in your class, it is easy to doubt yourself. I think the festival is an opportunity to increase your confidence and build your network. I was selected out of 300 candidates. Now, I'm daring to dream and plan for the future.
Laetitia Bica: It's true that Hyères is a real launchpad. Obviously, it's a unique opportunity, being able to show your work to a prestigious jury and the international press. It's also a good way to make a platform for my work and to let it take its place and to find my own at the same time. Apart from being really grateful for all that, taking the true nature of my project, which is obviously very important to me, into account, it is also its social dimension that I'd like to underline. For CREAM, the series of photos selected for Hyères and exhibited in Liège as part of Bip 2018, I worked with artists from Créahm who have worked in partnership with me on the same project.
For years, the Antwerp and La Cambre Academies have been among the top prize winners. Now, new talent is emerging, especially those who are self-taught or from the smaller schools. Do you think you develop more through being taught or by the experience in the field?
S.B.: My first diploma brought me a lot of technical know-how which I was able to use in my subsequent studies. During my time in Amsterdam, it didn't matter what my designs were, I knew how to bring them to fruition. I think that if you have ambition and drive you can certainly make a name for yourself without graduating from La Cambre or any other top school.  It's what you do with your training that counts.
L.B.: I think that you can learn something wherever you look for it. That's true for all types of art. It's our encounters that make us develop. Human encounters, obviously, but also those with a colour or a gesture that can affect our thinking and, so, influence what follows as well. In this instance, it was a question of the different organisations (Créahm, MAD Brussels, etc) where I had to find my own place. By dialoguing with the various institutions, you come to see that their boundaries are becoming less rigid. In my work I prefer to talk of interdependence rather than independence. Freedom for its own sake is meaningless. It is enjoying true autonomy while developing within existing structures that is interesting.
At Hyères, fashion and photographer – two inevitably linked disciplines – are united under one festival. How do the two arts of fashion and photography view each other?
S.B.: What motivates me in my profession is the opportunity to tell stories. Photography is inevitably part of that. In my final year collection – which was what got me the selection for Hyères – I worked with a young photographer. We filled a lorry with dozens of sofas and set them up in a wood in the middle of nowhere in Holland. To me, that type of atmosphere is far more inspiring than a studio shoot against a white backdrop.
L.B.: When I work with a fashion or design label, the most important part of the work is being the artistic director. What interests the designers most is the way I see their products. Then again, what I love most is translating their intention and finally to see a type of freedom immerge within the constraints. Fashion is a great playground for the photographer.
Tell us about the work you are both presenting at the Hyères festival.
S.B.: The seven models I'm presenting will tell the story of a girl who lives in an imaginary world, quite the opposite of the one in which we live where people tend to all dress alike, in jeans and trainers. It's my plea for more freedom in fashion. I played with the cuts – ultra voluminous – and the colours. Each model is hand painted in a style inspired by pointillism.
L.B.: I worked for two months in the Créahm Liège workshop, with Sam Cariaux and other artists. Working with skin make-up and paints they created a dialogue and transcended my portraits. My aim was to convey the link which united us to each other. Without this work the link would remain completely unseen. The make-up and strokes which defined them were unique because they were linked to a shared instant which was unrepeatable. Thus, the project has a very strong identity aspect.  The collaboration with Bruno Robbe's publishing workshop – an outsiders' view which was extremely enriching that also helped promote our work – allowed me to vary the printing techniques used in my photographs.
The two juries for this 2018 event are made up of celebrities with very varied profiles. Do some of them inspire you? And generally speaking, what are your points of reference?
S.B.: I'm an admirer of Haider Ackermann's work, the jury president this year. He has remained faithful to his style without ever being deflected. From the style point of view, I relate closely to Rei Kawakubo, the founder of the Comme des Garçons label. I love her work with volumes and the way she creates with total freedom, not worrying about whether a model is easy to wear, and even less, commercial.
L.B.: I don't really have any. Of course, I admire Bettina Rheims' work, this year's president of the jury, but I believe much more in the enrichment which comes from an encounter and the quality of an exchange. I collaborated with Alexia de Ville, the designer of the Tenue de Ville wallpaper, very recently, on her latest Saudade collection. I like to work on a one to one basis, understand what they wish to express, then use this to communicate through the image.
Are you the sort to plan your careers? Or do you prefer to move forward according to who you meet?
S.B.: Before I knew that I'd been selected for Hyères, I thought I'd set up my own label. It's always like that, but I'm also aware of the importance of not closing doors. If someone made me an offer, I might well agree to work in-house if it was a label that was excited by my world. I wouldn't rule anything out on that basis.
L.B.: I'm not sure if I really understand the meaning of the word 'career'. I prefer to talk in terms of a way of life. Above all it is the meetings and encounters that are important. That stimulates and moves you forward. And if I think about work strategies, it's so that I can use them to better find my place. My place is not fixed, obviously, or immobilised, but increasingly defines me as it evolves.
Apart from being selected amongst the finalists, Sarah Bruylant was awarded the People's Prize for this 2018 edition of the Hyères Festival.
By Marie Honnay
For further news about designers in Wallonie-Bruxelles on the WBDM website.