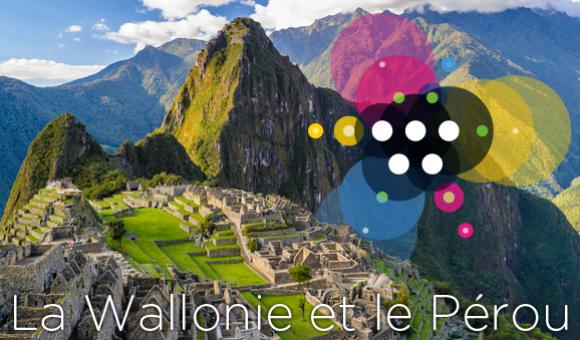 It was a Walloon called François Watteau who created the first private bank in Peru. Other Walloons, including Jules Gaudron, brought knowledge acquired in Gembloux to this country and created the National Agrarian University in Lima.
The Belgian Princess Arnoldine Caroline de Looz-Corswarem married José de la Riva Agüero who was the first President of Peru.
Thus Peru enjoys important links with Belgium in general and Wallonia in particular, but these links could be more significant and now more than ever, it is worth strengthening them.
This year, the Belgian Development Agency celebrates 50 years in Peru. But, the country's exit from the list of poor countries due to more than a decade of growth of 5% to 6% a year, notwithstanding a slowdown of approximately 2.4 to 3 % this year (IMF evaluation and Government of Peru), also marks the end of this development cooperation over the next few years. The country's outstanding economic health will therefore lead to the termination of the Technical Cooperation provided until now, although of course, a high level of relations will be maintained between our countries.
Some may quote the aforementioned slowdown as a potential obstacle.
In fact, this slowdown should, paradoxically, generate interest among the country's foreign investors and cause the local authorities to open up the country yet further, leading to greater flexibility and cooperation for new investments and/or bilateral relations with our country and the extraordinary potential of Belgium and Wallonia. 
Knowing that the rights of foreigners are very similar to those of the locals and that there is no obligation to go into partnership with the country's nationals, foreign investors can therefore control 100% of their capital and shareholding, if they wish.
Recognising this, Flanders intends to appoint a new commercial attaché based in the Peruvian capital, as soon as possible. Wallonia therefore needs its own presence in Peru.
In late 2014, Peru saw one of the most important multi-sectoral trade missions in the country. It was led by Her Royal Highness Princess Astrid on behalf of His Majesty King Philippe, accompanied by Ministers of State and representatives from commercial agencies, companies and universities. In August 2015, this mission was followed by another visit by His Excellency Mr Didier Reynders who again met with the President of the Republic of Peru and Belgians representing our community.
It is true that it takes patience and particularly assistance to understand local customs, laws, rules and how things work on a daily basis.
Life here can be really very pleasant (I have lived here for more than 20 years).
The country is highly diverse with a great many attractions:
magnificent landscapes,
an accessible archaeological heritage which is the largest in all of South America,
beautiful handicrafts and folk and artistic productions,
an extraordinary cuisine, the diversity of which is revealed particularly in Lima with super foods and nutrients (Quinoa, Kiwicha, Maca, yacon, etc.) and drinks, given that almost the entire coast is used for grape and vine growing,
a very rich subsoil (gold, silver, copper, phosphates, gas, etc.) and in great demand.
Although over the last twenty years we have seen the emergence of many more products and services, which are also of better quality, there is still room for more things that generate local interest, even in daily life. This could relate to food and drink (Belgian beers are now famous in the capital and gradually gaining ground in the country's other cities, along with fries, chocolate and other chocolate treats) or high technology and other sectors.
That said, we not only lack quite a few traditional Walloon specialities but also developments of Walloon companies, researchers and start-ups, Walloon expertise and progress in various fields.
With the Belgians' reputation for being tough, but easily adaptable, sympathetic, friendly, skilled and with both interpersonal and professional qualities, the way could be open for them as long as they enlist the services of their fellow countrymen and locals and are aware of administrative, accounting, financial and other matters that members of the Belgian community will undoubtedly point out, especially to individuals and small and medium sized enterprises.
CTA
Sign up
Complete the application form and adhere to the Charter of Brand Ambassadors