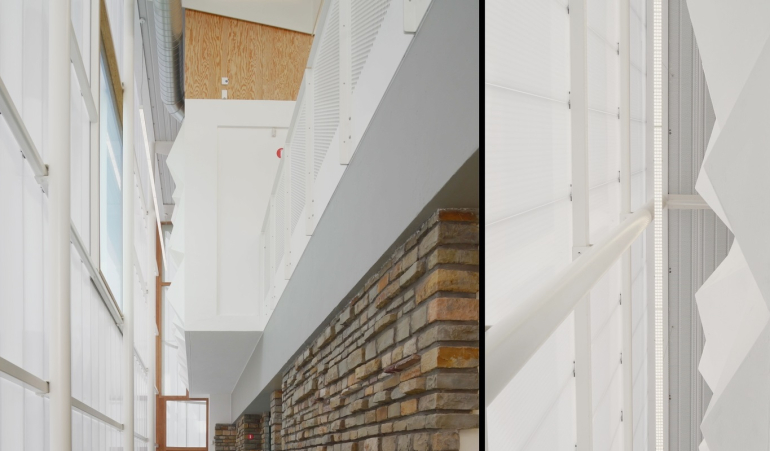 Discover the portraits of different operators of architecture in Wallonia-Brussels and their contemporary achievements.
> TREETEK by Matador / de Alzua +
> PONTS DES ARTS by V+ / HBAAT
> TRINKHALL by Atelier Beguin-Massart
TREETEK by Matador / de Alzua +
Discover the project Rives de la Haute Deûle district in Lille, an industrial wasteland has been rejuvenated starting from the magnificent Le Blan-Laffont factory. At the edge of the park, the Matador office has just delivered a 6.000m² office building to highlight it, in association with de Alzua+.
PONTS DES ARTS by V+ / HBAAT
Découvrez le projet "Pont des Arts", pôle culturel situé au cœur de la métropole lilloise à Marcq-en-Baroeul et né de l'association HBAAT avec les bruxellois de V+ livré cette année et qui se distingue par son intégration dans le contexte urbain comme par la générosité de ses espaces intérieurs.
iMAL by Central / NP2F
IMAL is a unique place in the Brussels landscape. More than an art center, it takes its relevance both by the culture it proposes and by its urban situation. A culture of co-production, anchored in its time. An accessible place, at the crossroads of two neighborhoods, capable of federating a plural public through the transversality of its activities.
A former factory situated along the canal of Brussels has the ambition to become the Center for Arts, Sciences, Technology, Innovation and Inclusion.
TRINKHALL by Atelier Beguin-Massart
Renovation and expansion of areas housing the museum's permanent and temporary exhibitions, reserves and workshops, museum café, offices and pedagogical activity room.
beguin-massart.be/portfolio_page/trinkhall/
URSULINEN by Label
School. The Ursulinensite in the centre of Mechelen, Belgium, is characterised by a mishmash of building types and styles, lacking any clear definition. Made up out of different public buildings intertwined with private dwellings, the building block presents itself as a labyrinthine and hardly legible piece of city fabric.
In an attempt to structure the open space of the building block, the project introduces a series of courtyards. In combination with the extreme compactness of the new buildings, we recreate large unbuilt spaces, forming breathing areas in the middle of the dense block.
labelarchitecture.be/project/ursulinen-2/
CIME CONDUCTIVE by A229
The project consisted of the creation of a new type 4 (motor disability) secondary school.
MEXICO by Vers.A
Construction of an appartment building and a pocket park.
These videos were produced by Wallonie-Bruxelles Architectures and directed by Jonathan Ortegat, supported by a team made up of Jeanne Debarsy for the sound, Loup Mormont for the music, Jean Forest for the graphics and Lucien Keler for the colorimetry.