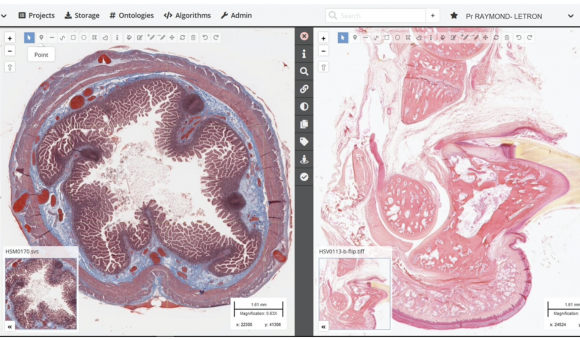 The virtual microscope of Medtech start-up Cytomine (based in Liège), which specialises in collaborative IT solutions in the field of digital pathology, has been selected as part of the French digital innovation project PATIM. The National Veterinary School of Toulouse (ENVT) carried out the project with the aim of providing all veterinary students in France with support to reinforce their learning. Thanks to this Walloon technological innovation, future veterinarians will be able to observe scanned tissue slides on their screen as precisely as with a classic optical microscope.
The PATIM (Transdisciplinary Learning Project through digital imaging for clinical veterinary training) project "aims to use the potential of digital teaching innovation and technological developments in image processing to benefit veterinary education. This platform aims to facilitate and reinforce students' acquisition of fundamental and clinical knowledge as well as analytical skills and the diagnostic approach, through practice in a fun and interactive virtual situation," explains Ms Raymond-Letron, professor of veterinary pathological anatomy and histology, coordinator and leader of the PATIM project at the ENVT.
In this context, the virtual microscope developed by the Liège-based start-up Cytomine has been selected to offer a new educational dimension to students at four French veterinary schools (Alfort, Lyon, Nantes and Toulouse). Students will have access to a single platform, accessible from anywhere, at any time, as simply as connecting to a website. The Cytomine web interface makes it possible to share very high resolution images online and offers the same navigation parameters in the tissue as the magnifications of a microscope. Cytomine also offers the benefits of being able to annotate images and share content, thus also enhancing collaborative work between students.
Specialising in digital pathology in the field of biomedical imaging, Cytomine, through its web platform that hosts a powerful and modular artificial intelligence engine, offers an innovative and collaborative solution that is available anywhere at any time. The software developed by the Liège-based spin-off allows scientists to share and analyse images without any limitations in terms of size or format (up to multi-gigapixels), all in an environment that facilitates collaborative work. Cytomine also develops machine learning algorithms adapted to the demands and needs of its customers.