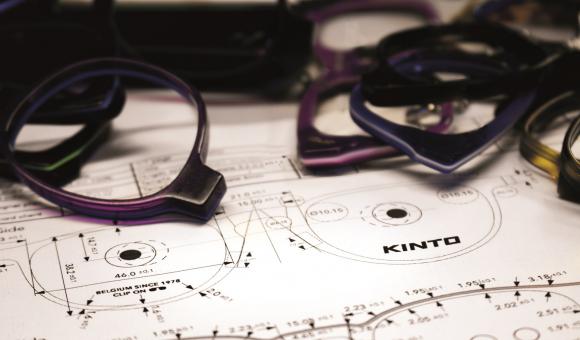 Eyewear is a very specific world. One that is much more complex than it would seem at first glance. In terms of design, it requires keen vision. Because everything is in the details. That's why Netoptic has chosen to work with and train its own team of designers. With 100,000 frames sold every year, the Walloon company is now a significant player compared to its designer competitors.
It was in the mid-nineties that Netoptic's eyewear collections started to take off. Until then, Celso Viejo, the founder of this family business, designed the frames himself. Since then, designers have joined the company to translate the company's DNA as subtly as possible through its two independent brands: Kinto and Malt.
This DNA can be summarised in a few points: on trend, ergonomic, eye for detail, collaboration, expertise. "We seek to be on trend without being avant-garde or extravagant. The result must be harmonious and centred around those who wear the frames. That's why we also work a lot on ergonomics," says Céline Onssels. In terms of glasses, this designer, from La Cambre, learned everything on the job. "I had to sharpen my vision because initially there were details that I could not see."
In reality, three hundred steps are required to make a frame! Also, those who think there is not much room left for innovation in the sector are mistaken. Hinge systems, glass fixings... Every year, innovations push the market towards excellence and technology.
For Netoptic, innovation begins in the field. "We have built a relationship with our customers, opticians, based on proximity and collaboration," explains Johanna Viejo, director of the Kinto collection, a high-personality vintage range. "As opticians are our best ambassadors, we often ask for their opinions, criticisms and suggestions on new proposals and new colours."
The designers - "who always design by hand before using the PC," insists Céline Onssels - seek inspiration in areas other than just eyewear. This is vital. Particularly so to successfully design each model in eight fluid, consistent, and saleable colours, where most manufacturers stop at a maximum of four.
The fact that Netoptic controls the whole chain, from design to production, allows for greater responsiveness. "If, for example, we feel a change of trend in terms of colours, our factory can react very quickly." Over more than forty years, the company has accumulated an expertise that now places it in a position that it can be proud of in the eyewear market. "The market is made up of one very big monopoly and some semi-monopolies. But beside it, there is room for independent actors like us, because it is a very dynamic market," says Johanna Viejo.
After the 2008 crisis, Netoptic completely revised its ambitions. Upwards. This is how this SME of some 20 people, where each person "wears 36 hats at once", started to bring in business developers in 2014. And since 2016, it has resolved to write new chapters in its history by focusing on exports, which it has expanded to countries other than France. And also on communication, a space it had little occupied until this point.
Liliane Fanello (for WBDM)
Linked events