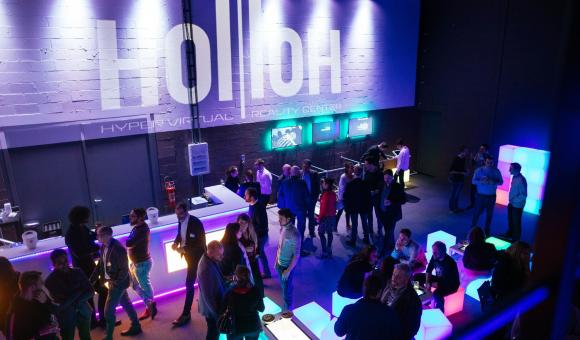 Have you ever dreamed of a virtual reality centre where training, entertainment and e-sport come together? Vigo Universal has! This unique concept in Wallonia is called HollloH and places the user experience at the heart of the project.
More than seven years after the creation of its first VR (Virtual Reality) attraction, Vigo Universal has finally joined the great Pôle Image de Liège family by putting its experience to good use in opening this great HollloH centre; it is a unique experience that will delight the senses of the visitors who pass through its door.
The Namur-based company, already known for its application development and 3D digitisation services, as well as its concept of events, wanted to offer new ways of approaching virtual reality with exclusive content, developed by its studios in order to stand out from the other centres that have been springing up all over Belgium recently. HollloH is a playing area of more than 1,000 m², on which 60 people can play at the same time; there are also 100 seats in the cafeteria area and capacity for up to 150 people for team-building events.
Indeed, one of the characteristics of this centre is the space that it dedicates to professionals. HollloH is a real technological tool for companies, which will be able to discover the latest innovations. For example, there will be a service dedicated to virtual reality simulations or games that can be converted to host training sessions. The location for this multi-purpose centre was not chosen at random, as it was created at the Pôle Image, a veritable hive of companies dedicated to digital technology. Two major Walloon digital players have invested in this concept: Wallimage and the Noshaq group (LeanSquare).
But whether you are alone, with family, friends or colleagues, there is something for everyone: a permanent VR cinema (the first in Belgium), an interactive bar where you can sip a HollloHdrink and enjoy a HollloHSnack or even a unicorn race. And all for a very reasonable price.
HollloH also plans to use this particular concept to open several centres in Europe and link them together... In short, as you have surely understood, if you want to enter a colourful, futuristic universe, this is the place to go.
Linked events