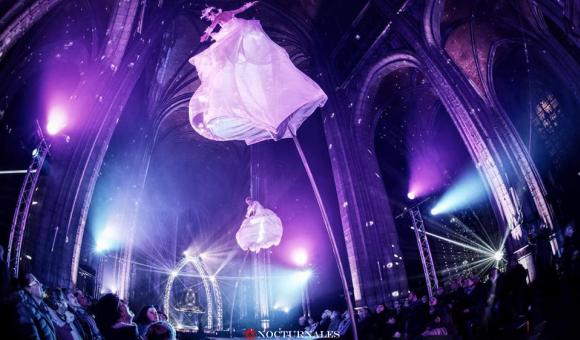 From 13 December to 6 January, the non-profit association NOCTURNALES will put stars in your eyes with its two new Christmas shows "le voyage des mages" and "les sonneurs de noël". Two enchanting shows that you will be able to enjoy in the largest churches in Wallonia and Brussels.
An essential operator in the design, creation and production of shows that promote the Heritage, the non-profit association NOCTURNALES was created in 2005 following an encounter between Luc Petit, an Artistic Director and Producer, and Michel Teheux, a man of letters. Together they came up with the concept of "heritage operas". Anne Roelandt joined them a few years later and NOCTURNALES saw the light of day. Thanks to this ingenious creation, the buildings of our great Belgian heritage are promoted and, in turn, become players in the performance.
If the name of the non-profit association NOCTURNALES doesn't mean anything to you, remember that it is the company behind INFERNO, the opening event of the bicentenary commemorations of the Battle of Waterloo, and also the urban opera "décrocher la lune" at La Louvière. Shows that were rewarded several times on an international level.
The Walloon Region, the Institut du Patrimoine Wallon (Walloon Heritage Institute), the DGO4, the Commissariat Général au Tourisme (General Commission for Tourism), the Belgian National Lottery, the partner Municipalities and Provinces all support the productions. This year, it is already possible to book your seats for two magical Christmas shows.
The first is called "le voyage des mages". As its name suggests, it will take you on an extraordinary journey with the Three Wise Men on the trail of the evening star. On the programme: dance, circus, magic, enchanting music and glitter! The performance will be given at Saint-Aubain Cathedral in Namur from 13 to 16 December, at Saint-Pierre de Bastogne Church from 20 to 23 December, at Saint-Paul de Liège Cathedral from 26 to 30 December and from 1 to 2 January, and, finally, at the Sainte-Waudru Collegiate from 4 to 6 January.
In the company of these Wise Men, the second, entitled "les sonneurs de noël" will introduce you to some unusual and mysterious characters, who will immerse you in a strange adventure on the trail of the sound of the Christmas bell. It will be held at Notre-Dame de Tournai Cathedral from 14 to 19 December, at Saint-Remacle Church from 26 to 29 December, and at Saint-Jacques-sur-Coudenberg Church from 2 to 5 January.
For further information or to book your tickets, visit the website: http://www.nocturnales.be