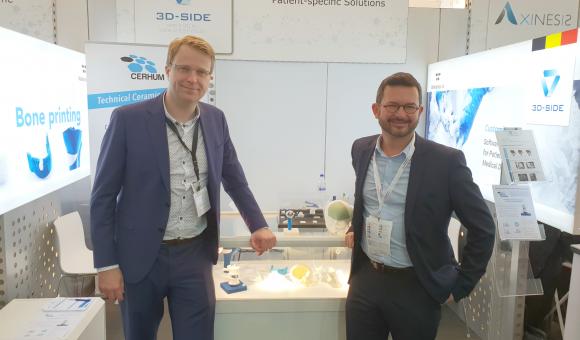 Liège-based company Cerhum is looking to raise €2.5 million from private investors to finance the development of a customised ceramic graft, a revolutionary surgical process that allows exceptional bone regeneration.
Cerhum was founded in 2015 by Grégory Nolens; the company, specialising in the manufacture of medical implants through 3D printing and located in Liège Science Park, is currently expanding rapidly. It also provides its services to cutting-edge industries such as aeronautics and space, as well as jewellery and watchmaking.
The company has until now been supported by the public authorities, including Meusinvest; it now wishes to raise 2.5 million euros by opening up its capital to private groups, so that it can complete clinical trials and start to market its customised graft, which can be used in a range of different scenarios. "For example, it can be used for people who have had cancer of the jaw, which has to be rebuilt afterwards. It can also be used on patients with congenital diseases, such as a fairly large cleft lip, or patients who have had a car accident or a sports accident, after a skull fracture or that kind of thing," explained Grégory Nolens, Founder of Cerhum. 
The company has therefore developed an innovative method that significantly reduces the body's rejection rate. To repair a jaw, for example, surgeons have until now had to use a metal or plastic implant, which carries a high risk of rejection, or remove a piece of bone from the leg, which may produce side effects. Fast and efficient tissue regeneration will be possible thanks to this graft, which is made from calcium and phosphate, totally biocompatible, printed in a porous structure and, lastly, linked to the modelling developed by the partner 3D-SIDE. "It will be much faster and more comfortable for the patient, thanks to shorter anaesthesia. Moreover, this is regenerative medicine, which means that you do not have a piece of titanium in your jaw, for example, but a ceramic part that will turn into bone," said Khanh Tran Duy, CE-CEO of 3D-Side. This technology is due to reach the market in mid-2019, with the first patient operated on in May.
Source : RTBF
Linked events