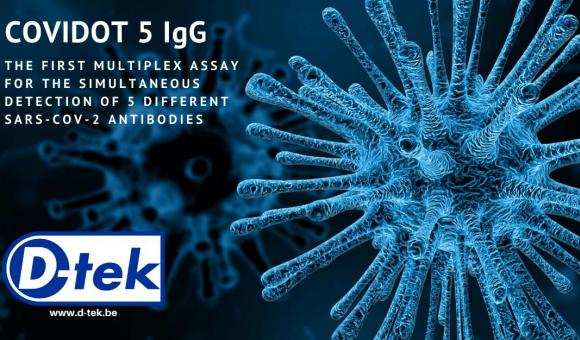 After three months of development, the Mons-based company D-tek has launched a serological diagnostic kit for the detection of five specific antibodies of the SARS-CoV-2 responsible for COVID-19. This is a 100% Walloon development (thanks in particular to the active and effective participation of the CHU Ambroise Paré, UMons, Materia Nova and the CHU Tivoli) and a world first! Currently, there are only monoplex kits which only test one antigen at a time. COVIDOT 5 IgG also allows testing in just one hour.
D-tek, located in the Initialis science park in Mons, is a biotech company specialising in the development and manufacture of diagnostic kits for human autoimmune diseases. Despite lockdown, its teams have spent the last few months actively contributing to the fight against the COVID-19 pandemic.
COVIDOT 5 IgG is the first multiplex serological test able to simultaneously detect five specific antibodies of the COVID-19 virus (Nucleocapsid, S1+S2 (ECD), S1, S2 and RBD). Some patients (who test positive for PCR and are therefore really ill) do not actually develop all the antibodies and sometimes therefore test negative in the tests currently used in laboratories. This kit will certainly improve the characterisation of patients and accurately determine whether or not their immune system has been in contact with COVID-19.
This information is vital for diagnosing patients and for all future stages of development, particularly with regard to "vaccines". The virus is still circulating, despite the easing of lockdown, and we must be prepared for a potential second wave.
This kit is currently available for RUO (Research Use Only), but D-tek and its scientific partners are working on registration, which will make it available to all analysis laboratories in Belgium and throughout the world, since more than 80% of the turnover of the Mons-based biotech company comes from exports. Its Italian, Spanish, Tunisian, Russian and Indian partners are already waiting to distribute this new kit in their respective countries.
Linked events