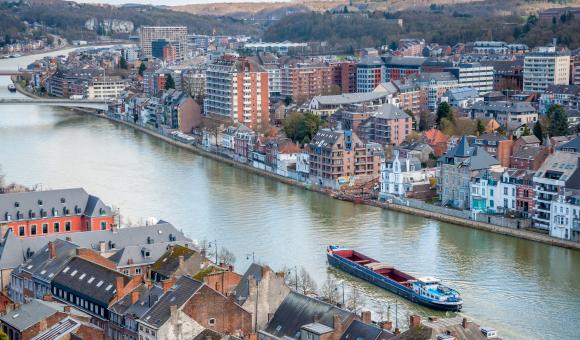 In 2019, Walloon exports amounted to nearly €50 billion: a record! Still out in front, the chemical industry accounted for one third of this amount. Large-scale exports also gained ground, now accounting for 27.4% of total exports. Although 2020 obviously looks much gloomier, Wallonia is already counting on its resilience, which proved its worth in the last crisis. 2021 should already make it possible to catch up the ground lost this year.
According to the most recent statistics from the National Bank of Belgium (NBB), Walloon exports amounted to €49.2 billion in 2019, i.e. 11.2% more than in 2018, which had already recorded an impressive increase. It is an absolute record in terms of annual export value.
"In terms of benchmarking, we couldn't have asked for more!", enthuses Pascale Delcomminette, General Administrator of the Wallonia Export-Investment Agency (AWEX). "Wallonia is posting excellent growth compared to our reference markets (Flanders, Germany, the Netherlands, France and the Euro zone19)".
In geographical terms, the weight of non-EU28 countries in Wallonia's total foreign trade exceeded the 25% mark for the first time in 2019. Walloon exports were up last year in almost all regions outside the EU28. In particular, sales by Walloon companies made significant progress in North America (+49.6%).
At the sectoral level, exports of construction materials (+55.4%) and transport equipment (+47.7%) posted spectacular rises, as did, to a lesser extent, optical and precision instruments (+13.2%), agri-food products (+12.8%) and plastics (+9.6%).  These 5 product categories accounted for 25% of our total exports in 2019. Nonetheless, the chemical and life sciences sector is still the veritable driving force behind this record figure. Exports of pharmaceutical products increased by 28.7% last year, representing a third of the Walloon total.
"Our leading position in terms of exports is a reminder that products from the chemical and life sciences sector are the basis of many value chains. The food industry, healthcare, electronics, textiles, construction, transport, energy and water supply are all examples of this," explains Frédéric Druck, Managing Director of Essenscia Wallonie (Belgian Federation of Chemical Industries and Life Sciences). "In order to exit the economic crisis caused by Covid-19, a solid industrial base is essential. We also need to keep developing international trade. To achieve this, we clearly need an ambitious industrial policy, fair trade agreements and a first-class logistical infrastructure, such as Liege airport, a hub for international pharmaceutical exports."
For its part, the Wallonia Export-Investment Agency is preparing for the downturn prompted by the crisis, for which it estimates a fall of between 13 and 18% (i.e. between €6 and €9 billion). To anticipate the recovery as effectively as possible, the Wallonia Export-Investment Agency has revised its strategy for assisting exporting companies: virtual fairs, distance learning, reinforced support for business, and increased prospecting of foreign markets. The comprehensive offering for companies and operators has been adapted to help them as much as possible in the face of the crisis.
And the figures for 2019 give hope. The dynamism of Walloon companies and their adaptation to the market economy suggests that if the crisis does not last too long, the trend could quickly turn positive. Following the economic crisis of 2008, the Walloon economy picked up again faster than other places. The large share of foreign sales accounted for by the pharmaceutical sector (33%), which is much less subject to cyclical fluctuations, should enable Wallonia to limit the damage this time around.
Linked events