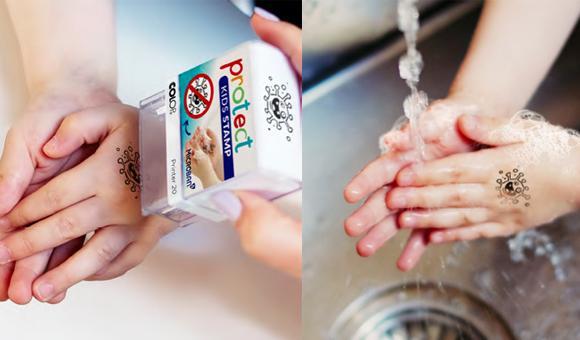 The company COLOP Arts & Crafts, based in Eupen, has developed a stamp that makes washing your hands and protecting yourself against infection child's play !
As a result of the Covid-19 epidemic throughout Europe, childcare facilities and schools have been closed. Children have stayed at home with their parents, who are sometimes absorbed by their (tele)work. The end of the lockdown is now in sight... but how can we protect our little ones from the virus? According to the WHO, our best defences are soap and water! Washing your hands thoroughly and regularly is therefore the best protection. However, it is not always straightforward to ensure that young children can do this without the help of an adult...
COLOP Arts & Crafts makes it easy for them with this creative and canny initiative that will help parents and teachers motivate children: the Protect Kids Stamp! Every morning, stamp a small swab in the palm and on the back of your children's hands and let it dry for 10 seconds. Their challenge will be to make it disappear by washing their hands regularly and thoroughly !
The ink has been tested and is dermatologically safe. Moreover, an antibacterial agent has been added during the manufacturing process, drastically inhibiting microbial growth throughout the life of the stamp. The research and development of the product was carried out in Wallonia, and it is manufactured in Austria: an additional guarantee of quality !