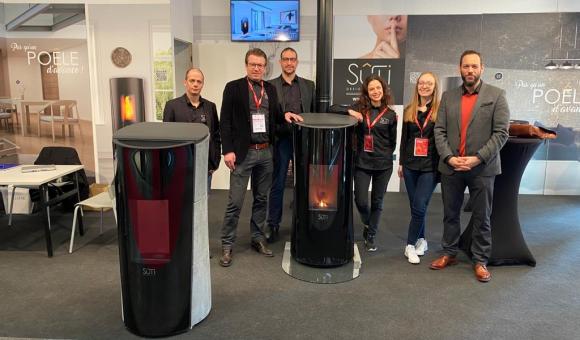 From 18 to 22 February 2020, the international Progetto Fuoco fair was held in Verona, Italy, during which the Liège-based SME was awarded the "European Start-Up Award" for the design, innovation and technology of its SÛTI pellet stoves, which are 100% made in Belgium.
Around a hundred companies took part in the event and it was following the jury selection that the Aubel company won this coveted prize at the final held on Saturday 22 February. And it is well deserved!
Indeed, it is not for nothing that the company chose the name "sutî" which means "intelligent" in Walloon: this Walloon pellet stove, with an average efficiency of 94.6%, is able to constantly adapt to constraints. Developed with the help of several Walloon research centres four years ago, the stove uses electronics to self-regulate according to the wind and atmospheric pressure. Depending on the quality of the pellets, it measures the flue gas temperature and optimises combustion. Pellet loading speed varies according to the desired room temperature.
But that is not all! The stove also has an extremely quiet, or even inaudible, brushless screw motor and a 20-kilogram pellet reserve. It illuminates and provides a warm light to the room in which it is located, thanks to the clever use of LEDs. A fine particle filter system limits its presence in the atmosphere. Lastly, it is equipped with a smart thermostat, which maintains the temperature and manages all the energy in your home, using the cheapest fuel first, i.e. pellets.
Thanks to the SÛTI-APP, you can even manage your SÛTI stove remotely via a control interface. In short, as you have no doubt understood, life is beautiful when you have such a source of well-being at home!